Deadpool called the names of those in the last trailer?
As usual, Deadpool will "skewer" a few characters when the trailer comes out.
Compared to other superhero characters, Deadpool has the unique ability to talk to the audience. Combined with the "mismatch" is hard to compare with, his heroic mouthpiece can be "slanted" the world. And the new trailer 3 is no exception.
1. Thanos
Both Cable's main villain Deadpool 2 and evil Thanos in Avengers: Infinity War are coming out all by Josh Brolin. Of course, Deadpool (Ryan Reynolds) is not afraid to ignore this tremendous pitching opportunity. Right from the previous trailer, he anti-hero mouth has "slanted" meaning implies carrying two "stone" to donate the enemy. In the final trailer, Deadpool did not hesitate to call Thanos directly.
2. Joker
In the trailer, Deadpool is not only called Cable Clown, but he also owns the familiar weapon of the Joker. Does anyone recognize the guns used to scare the clowns?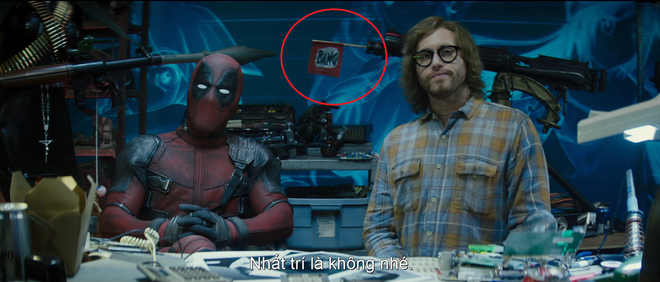 3. Domino
Domino (Zazie Beetz) is one of the key players in X-Force and the future X-Men universe. When applying, super power manipulation of her luck she was "scolded" mercilessly. Yet this mutant woman has the action scenes as well as the most useful in the trailer.
4. Fox
Of course, the introduction of 20th Century Fox in the trailer also has to be muddy. Last time, Deadpool 2 considered himself a movie … sentimental to the studio that made 27 Dresses (2008) and The Devil Wears Prada (2006). This time, he switched to "The Wolverine Film Company". This detail certainly refers to the death of the Wolfman in Logan last year.
5. DC Universe
Seems like because of "no god together" so DC Universe was injured Deadpool of the Marvel family "skewer". From the previous Superman-style teaser to Henry Cavill's "million dollar" hook in the Justice League (2017). This time, DC Universe again on board because "too dark". Of course, everyone knows that DCEU chooses to be different, but it is not high and often becomes a topic of controversy among fans.
6. Trailer in advance
Remember the trailer before Deadpool sits on his own model and Cable while waiting for CGI for his opponent's arm? It seems like the actions during the play have been "realized" in this trailer.
7. X-Men Origins: Wolverine (2009)
The first time Deadpool appeared on the big screen was also played by Ryan Reynolds in X-Men Origins: Wolverine (2009). The guy has extremely cool bullet-shots, but the image is devastatingly devastating afterwards. Now, the heroic mouthpiece has "cosplay" myself when confronted with Cable. But, as a result, the body is sticky … full of bullet holes.
Deadpool 2 will be released nationwide on 18/05/2018.