Ten best sayings throughout Captian American's career
As exemplary superhero representing the American spirit, Captain America left many impressive lines.
As captain of the Avengers, Captain America (Chris Evans) always have to prove their bravery as well as inspire people in the darkest moments. His words not only represent the heroic spirit of a true superhero, but also makes viewers remember forever.
See more:

1. I can do it all day!
Born in Brooklyn, New York, ailing Steve Rogers is bullied by the kids in the neighborhood. He is never afraid to say the right thing or give up even though the enemy is bigger than himself. Whenever he was knocked down, Steve always tried to stand up and said, "I can do that all day!" Indomitable spirit, never give up making him become the captain that all superheroes always need.

2. I do not want to kill anyone, I do not like bullies, I do not care where they come from.
When it comes to determination to enlist, Steve has determined that his enemy is not Nazi Germany. He just wants everyone to be treated fairly and equitably. Captain America hates violent predators to "bully" people no matter who they are or from which planet.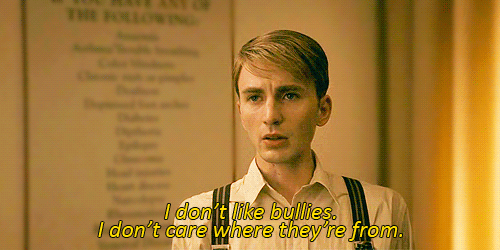 3. When I am missing, the world is at war. When I woke up, they said we won. They never said we had lost.
War causes pain and loss for both losers and winners. Over the past 70 years, Captain America has fallen out of favor with this era. Although the country won, but guy, like hundreds of thousands of other soldiers, lost a lot of things, close friend or promise still unfinished.
4. Take off your armor what are you?
Conflicts of Captain America and Iron Man (Robert Downey Jr.) broke out from the first meeting. While Tony Stark always puts himself up there and sees the superhero job as a walk, Steve believes that courage is the most important thing. He will choose to sacrifice "lying on the barbed wire to win teammates!"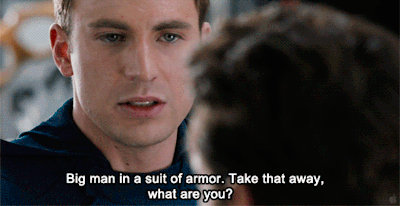 5. You think you can go back and listen to orders. But things are not the same anymore.
Over the decades, Captain America still considers himself a soldier, serving the country and protecting the people. But when your country is no longer true? This was when Steve realized that S.H.I.E.L.D was almost no longer fighting for the right reasons. He chose to go out to fight what he thought was right.
6. This is not freedom. This is fear.
Marvel's films also seem to have a lot of political elements. Upon discovering that S.H.I.E.L.D was overseeing the people with a series of stealthy carriers, Captain America protested immediately. He thinks that freedom is the most important thing, not the act of violence that makes the criminal and the innocent to be afraid.
7. All you did years ago was not you. You have no choice.
This is the reason Captain America out of ink protect his best friend even though the world chase. Everything that Winter Soldier (Sebastian Stan) has done all along is due to the HYDRA brainwashing program. For Steve Rogers, he's just a nice Bucky Barnes, protecting people from the Brooklyn neighborhood to the battlefield of the year.
8. No matter how, if you need me, I will be there.
After the battle in Captain America: Civil War (2016), Steve sends a letter and says he will always be there whenever Tony needs it. Although every confrontation to the level of living dead but Captain America is still watching Iron Man is a friend. This is the premise for the Avengers to reunite in the Avengers: Infinity War is coming.
9. We seek to save as many people as possible. Sometimes not everyone survived. But if we can not find a way to live with it, then next time, no one can be saved.
Making superheroes is not easy. Not only are they faced with danger to save people, they also have to live with sin if anyone can not escape. However, Captain America pointed out that they were forced to get used to it so they could continue to fight and protect the people.
10. I came here to talk about the most important qualities a soldier and student need – be patient.
The muddy text in the final clip of Spider-Man: Homecoming (2017). After catching the audience waiting for the long introduction, Captain America came out to talk about … patience.
Maybe the Avengers: Infinity War on April 25th is the last moment we hear the words of Captain America's extreme when Chris Evans determined to give up the role after the Avengers 4.